Oiles Bronze Bushing for Die Components
Oilless Bronze Bearings for Stamping Die components
Our company produce oilless bronze bushing bearings for the Automotive Industry, like bushing and slide plate pad for oilless cam units.
Oilless technology is using
high quality copper alloy based metals with solid lubricant (graphite or/and PTFE composite) plugs. This kind of bearing with the
character
of
maintenance free operation to reduce the cost and increase production speed.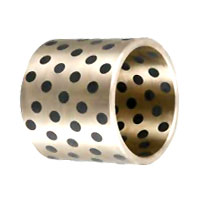 The Base Bronze Material:
Oiles 500 : Zn Brass, CuZn24Fe3Mn3
500 SP1 / HP / AB / F / L (SPBL)
Aluminum Bronze: CuAl10Fe5Ni5
Tin Bronze: CuSn12, CuSn10, CuSn8
JM1 -15: Gun Metal
JM7 -15: Ni-Al Bronze
Plugged Solid Lubricants:
SL2: graphite
Sl4: PTFE