Oil Iron Bushing,Oil Sintered Steel Bush
Applications :
1. Vehicle Motor Bushing
wiper motor,power window motor,rear view mirror motor, window washing device motor, traction motor, blower motor,electric chair
2. Home Appliance Bushing
washing machines, refrigerators, timer, sewing machine motor, electric fan, blender, hair dryer, vacuum cleaners, shaving
3. Office Machine Bushing printers, fax machines, copiers, and others,
4. Other Bushing
computer and lap top fan, toy motor,
audio equipment, electronics.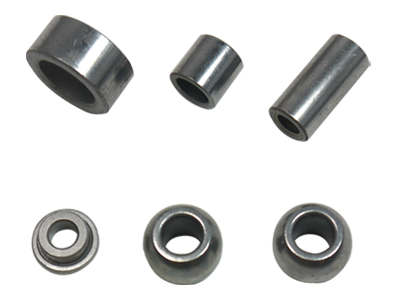 Model

Sintered iron oilite bushing

Material

Fe; Fe-Cu

Style

Sleeve, Flanged,Spherical,Miniature,Trust Washer, Rod

Size

1) inner 3-70mm, also can according to your request

Package

inner packing: plastic bag

outer packing: carton, pallet

Physical Properties

Specific load capacity static: 10 N/mm²

Specific load capacity dynamic: 5 N/mm²

Sliding speed: 6.0 [ m/s ]

Friction value: 0,05 to 0,20 [ µ ]

Temperature strain: -40 to +200 [ °C ]

Max. Pv - value: 1.6 [ N/mm² x m/s ]

Bronze Bushing Hardness: HB 30-145

Surface Roughness:0.8-1.6

Yield Stength: 15,000 PSI

Elongation: 1%

" K" Strength Constent(PSI): 26,500

Oil Centent: 18-22% (V)

Density: 6.4-7.3 g/cm³

Features

Oil-impregnated; Self-lubricating

Wear resistant and long life service

High performance bearing can be in extreme load, low speed reciprocating and oscillating applications

Good thermal conductivity property

Can be used in dirty and corrosive environment

Noise much less than other bearing

Suitable for high static load

Can be applied in widely temperature

Excellent corrosion resistance